Fish oil supplements have had a long and controversial history. There was a lot of inconsistency in the research around supplementation and several organizations only added to this confusion. The incomplete reporting by media outlets have also added to this confusion.
Here, I'll give a brief timeline of the evidence for fish oil and CVD outcomes.
Let's look at the evidence from the recent JAMA meta-analysis.
Methods:
Primary outcomes:
fatal CHD

nonfatal heart attacks

stroke

major vascular events

all-cause mortality
Inclusion Criteria:
Must be a randomized controlled trial

Studies must have a minimum of 500 participants

Studies must be at least one year long

Studies must use fish oil supplements
Characteristics of Included Studies
10 randomized trials included

8 are double-blind, 2 are open label.

Has a total of 77,000+ participants

Average age: 64 years

Average length of studies: 4.4 years

Used mainly up to 1 g/d of fish oil (ranges: 226 to 1800 mg/day of EPA and 0 to 1700 mg/day of DHA)
Results:
---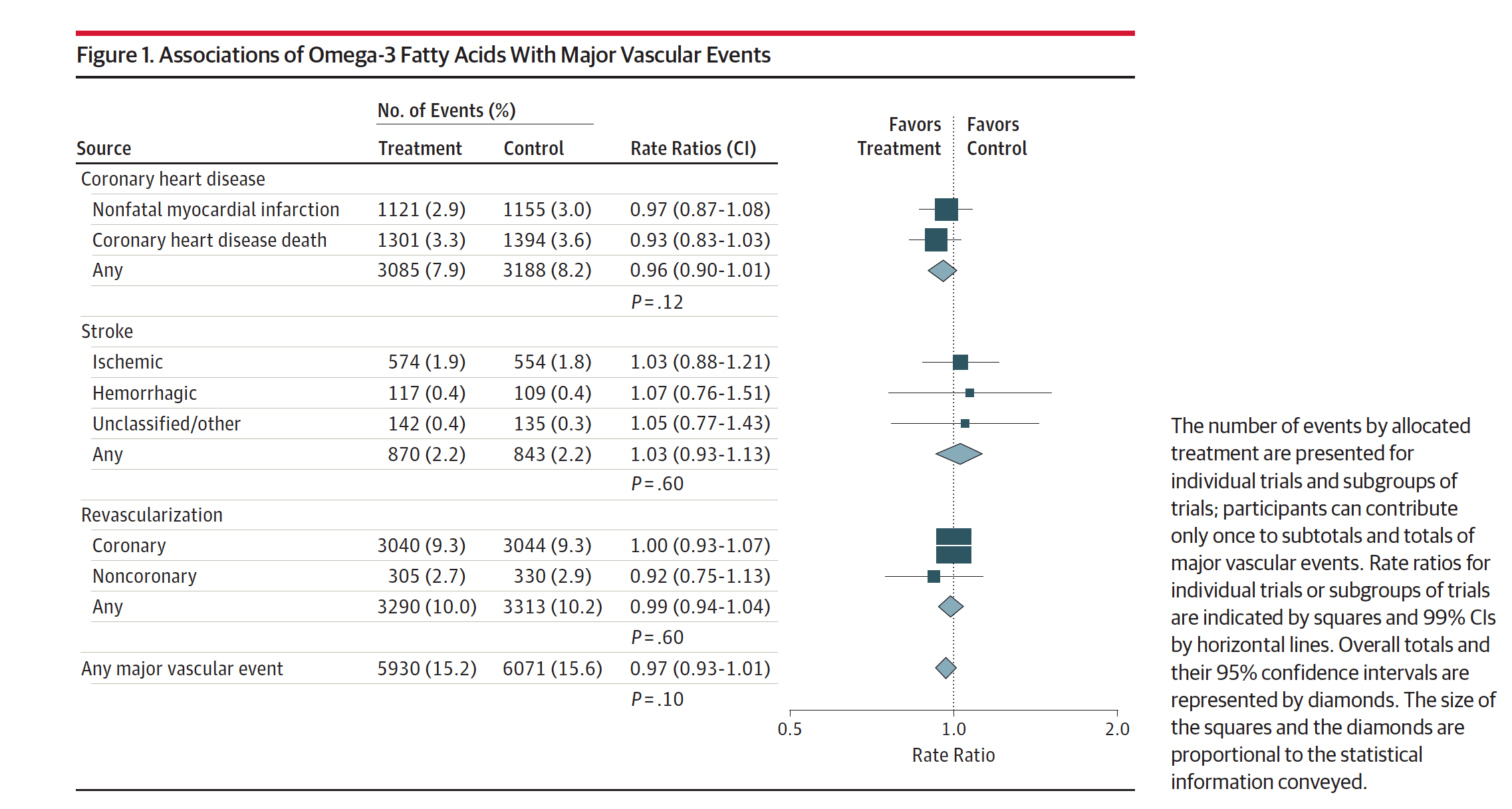 ---
No statistically significant association between fish oil supplementation and any of the primary outcomes.

However, the compatibility (confidence) intervals suggest very small effects.

Up to a 7% decrease in the rate ratio is compatible with the test model.

No significant differences amongst individual trials (worth remembering that these are exploratory and the analyses could be underpowered. This should not be taken as evidence for no effect.)

No significant associations found with subgroup analyses (same point as above)
Strengths:
High statistical power/increased precision for the main primary outcome

Only included studies of long duration

Included studies were mostly at low risk of bias
Limitations:
Conclusions:
Up to 1 g/d of fish oil may not have that much to offer when it comes to preventing CVD events in individuals who have a history of CVD. More research is currently underway on higher doses of fish oil supplementation, and there might be some promise there.
---
---
Help support the website!
---
---
---